Main content starts here, tab to start navigating
Now Featuring 12 Taps!
Crowlers Available (Supplies Limited)
Kegs Available
Joystick Junkie (India Pale Ale) (6.4% ABV)
TAP 1
Time to grease up Joysticks with the likes of Frogger and Ms. Pac Man as well as getting your Beer Junkie fix with our West Coast inspired IPA, Joystick Junkie.
Leapfrog your way around Magnum, Perle, Centennial, Centennial CRYO & Chinook Hops.
Just don't shake your Joystick 3 times!!
32 OZ. CROWLER: $10 or 3 for $25
Sweet Emotionz (American Wheat Ale) (4.4% ABV)
TAP 2
We promise you that this delicious Wheat Ale will make you grow a huge pair of...Oranges!! We bring the sweet to the wheat with over 130 lbs of Oranges. Unfiltered and refreshingly light, this explicitly Orange Ale belongs on your playlist all year long!
32 OZ. CROWLER: $10 or 3 for $25
Grip It and Rip It (Kolsch) (3.5% ABV)
This will bring you back to the days of rocking out to GNR while ripping those cheap American Light beers, only this is better!
32 OZ. CROWLER: $10 or 3 for $25
4 Pack (16 OZ.) $14
Dropping Lederhosen (Märzen) (6.0% ABV)
TAP 4
This take on a traditional Märzen style beer is malty and lightly touches on all the classic Oktoberfest Flavors with subtle sweetness on the back end to help support the 6% ABV that will have your lederhosen dropping in no time.
32 OZ. CROWLER: $10 or 3 for $25
Thin Bru Line (Golden Ale) (4.3% ABV)
Tap 5
This Blueberry Golden Ale features Cascade & Amarillo Hops. Blueberry lightly tickles your nose with a sidekick of Lemon notes.
Khaos Brewing is proud to present our latest libation, Thin Bru Line, a Blueberry Golden Ale that was brewed in collaboration with a few of Kendall County's Finest. Remember that Quote, "there ain't no laws while drinking claws", and some departments had to remind the public that "that just ain't true!"
Well, when you've enjoyed a few too many Thin Bru Lines, let's just say… you could still break some laws, so enjoy responsibly!
We will be making a donation from sales of this Beer to Illinois C.O.P.S.
32 OZ. CROWLER: $10 or 3 for $25
Khaos Kiddo Root Beer (Non-Alcoholic)
TAP 6
Need to drop off your kids at the ex's later Watching someone else's kids? Get them all hopped up on sweet, sweet home brewed Root Beer!
Then again, maybe your child has a sophisticated palate and knows a good Root Beer when they have one.
We want everyone to be able to raise a glass at our Brewcade, including the kids!
Smack My Witch Up (Spiced Lager) (5.2% ABV)
TAP 7
Hocus Pocus You Sons Of Witches! It's That Time Of Year Again When The Karens Act Normal Because Their Favorite Flavored Beer Is On The Market. That's Right, We've Got Our Pumpkin Spice Lager On Draft. So, Lace Up Your Uggs And Get Your Witch On With Our Newest Brew, Smack My Witch Up! (Khaos Brewcade Does Not Condone The Actual Smacking Of Witches, Even If They Deserve It)
32 OZ. CROWLER: $10 or 3 for $25
Strawberry Moooooooo (Milkshake IPA) (7.3% ABV)
TAP 8
Everyone around here knows the story of Mrs. O'Leary's Cow, but very few have heard of "Mr. Lepore's Pretty in Pink Bovine." Legend goes, Mr. Lepore had an obsession of feeding his udder friend a steady diet of Strawberries and Hops until one day she turned pink & started producing a wonderful Milkshake IPA! Seven "O's" in this Moo for the 7.3% ABV this mad Cow carries!
Dry Hopped Milkshake IPA with Cryo Amarillo Hops & Cryo Simcoe Hops.
32 OZ. CROWLER: $10 or 3 for $25
Don't Worry B Hoppy (Imperial IPA) (9.6% ABV)
Tap 9
Had a bad day at work? Is your teenage kid driving you mad? Did your significant other spend too much of your hard-earned money? Don't Worry, Be Hoppy and forget about the bad juju with this Imperial IPA! The sweet juicy nose hides the big hoppy boozy flavor that'll have you forgetting all about the fact that you still suck at golf! CHEERS, MON!!
32 OZ. CROWLER: $10 or 3 for $25
Haze in the Hole < Citra & Mosaic > (Hazy IPA) (6.5% ABV)
TAP 10
Look out! Haze in the hole! We launched Citra and Mosaic Hops in this Double Dry Hopped super Hazy Double IPA. Bursting with Citrus flavors and aromas, this full bodied hazy will blow your taste buds and mind away!
32 OZ. CROWLER: $10 or 3 for $25
4 Pack (16 OZ.) $16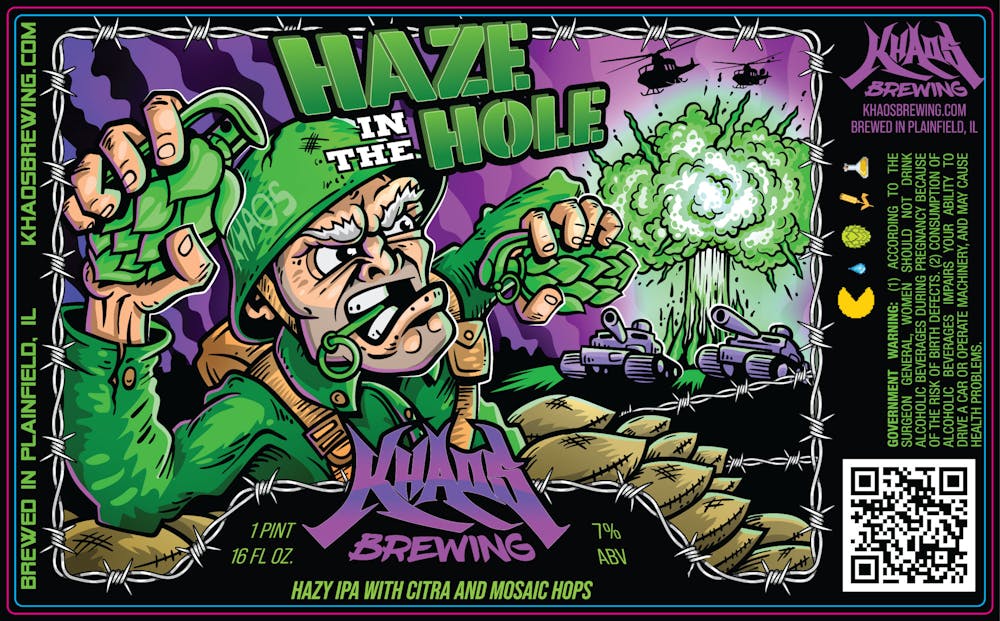 Barry Cuddles (Imperial Barrel-Aged Stout) (12.6% ABV)
TAP 11
Barrel Aged Imperial Stout infused with Blackberries and Vanilla. We all have that friend that's tough and hard, but we all know he has a soft cuddly core. Just don't cuddle this Barry too hard, he'll for sure knock you on your @$$!
Booby-Trap (Pale Ale) (5.4% ABV)
TAP 12
"HEY YOU GUYS!!!!" That's Sloth calling out to you and your friends to try our newest APA, Booby-Trap! Gather your Goonies and truffle shuffle your way around Magnum, Perle, Cascade & Cryo Cascade Hops. That's what I said, "Booby-Trap!"
32 OZ. CROWLER: $10 or 3 for $25
Imperial Bear Wrangler (Imperial Stout) (13.5% ABV) (88 IBUs)
If you got the plums to wrangle a Bear, then you just might have guts to sip on this super booze Imperial Stout! Please enjoy responsible, this Bear fights back!
*RETURNING SOON*
Orangegasmic (Double IPA) (8.0% ABV)
This Smash Style IPA is guaranteed to leave you stuck with your "OOOH FACE"
Bergamot Hops leads to an Orange Citrus taste and smell. Just don't tell Peter his girlfriend "hooked up with Bill Lumbergh!"
*RETURNING SOON*
Squirrels with Guns (Red Ale) (4.9% ABV)
MY GOD!! The air raid sirens are going off this red dawn, as an invasion of the Red Squirrel Army is invading our taste buds with rounds of Caramel and roasted Malt loaded in our newest brew, "Squirrels with Guns!"
Lay down your arms and just surrender to this delicious Red Ale!
*RETURNING SOON*
Piña Colada Panda (Milkshake IPA) (6.5% ABV)
Do you like Piña Coladas and getting caught in the rain? Mr. Panda does!
To create Piña Colada Panda we took the same base recipe as Dirty Thoughts Panda IPA, but went with a Pina Colada twist…
We added a huge helping of Pineapple and Coconut to this batch!
Your go-to Beer won't mind if you enjoy one...definitely swipe right on Piña Colada Panda!
*OUT OF STOCK*
Chuggie (Pilsner) (5.0% ABV)
Chuggie wanted to grow up to be as popular as the other crushable Beers he saw on TV commercials.
We worked hard to help him grow into his beautiful coloration, a crisp bite and the perfect flavor for all day drinking.
Enjoy this easy drinking, better tasting Pilsner on Tap at Khaos Brewcade & Kitchen!
*OUT OF STOCK*
Consta-Brew (Kolsch) (4.2% ABV)
One sip of this Citrus Kolsch and you'll want to run over to The Constable Tattoo Parlor and ink a lemon on your @$$! Ok, maybe you won't, but we did brew this beer in celebrating The Constable Tattoo Parlor's 11th Anniversary. So, bottoms up (glass and skin) and drink and ink responsibly!
*OUT OF STOCK*
Squirrels with Swords (Red Ale) (4.7% ABV) 
Easy drinking Red Ale featuring a striking dark red hue and a lightly roasted aftertaste.
It's so good we wouldn't be surprised if you were ambushed by Squirrels with Swords looking to take it from you. Well...we would be a little surprised.

⚔

*OUT OF STOCK*
Squirrels with Shillelaghs (Irish Bock) (4.9% ABV)
Listen up folks, the word you can't pronounce is pronounced (Shil-lay-lays)! For those who don't know what that is, it's a traditional Irish Wooden fighting club, made to brain the English invaders. This Brown Ale will club your taste buds with roasted malt flavors and smooth mouth feel.
*OUT OF STOCK*
713 (Pale Ale) (5.0% ABV)
This dry-hopped, easy drinking old school Pale Ale is brewed with Cascade Hops and Caramel Malt. Finishes with citrusy Tropical notes.
This Pale is classic, simple and part of our brewing roots as a Khaos Brewing original.
Experience this beautifully balanced Pale Ale on Tap!
*OUT OF STOCK*
The Gobbler (Hazy IPA) (6.0% ABV)
The Gobbler has arrived and it is a JUICY Apple-infused beauty! A Double Dry Hopped Hazy IPA featuring a mega-hazy appearance bursting with the aroma of Tart Apple & Citrus.
It's a full-bodied Hoppy Hazy featuring a bitter Grapefruit taste, mild Hop bite on the back of the tongue and a surprisingly clean finish.
Brewed with Citra and Mosaic Hops, don't miss out on this juicy, fruity Ale!
*OUT OF STOCK*
Man Card (8.0% ABV)
Man Card (8.0% ABV)
We took our base Seltzer and aged it in a Whiskey Acres Bourbon Barrel. You can taste the Whiskey in this smooth, crisp Seltzer.
Drink Seltzer like you got a pair!
Experience something different at Khaos Brewcade & Kitchen.
*OUT OF STOCK*
Funk Off (Berliner Weisse) (3.8% ABV) (3.8 IBUs)
We are proud to introduce our very first Berliner Weisse Sour Ale from Khaos Brewing!
100 pounds of fresh Raspberries helped us produce the beautiful Peach/Pink color. An aroma of tart and sweet will hit you as you bring this refreshing libation to your lips.
You'll fall in love after just one sip of this smooth and satisfying Sour Ale that leaves you with a lingering tart Raspberry flavor on the tip of your tongue.
*OUT OF STOCK*
Carved Up Smile (Pumpkin Ale) (5.0% ABV)
Our Carved Up Smile Pumpkin Ale is hazy as a cloudy fall night. You'll notice heavy notes of Spice as you bring this Pumpkin Ale to your lips. After one sip you'll get a dominant spice flavor from the 5 Spices we used in this recipe. It also features a Pumpkin backbone and a creamy mouthfeel and aftertaste from the Milk Sugar while finishing sweet. This full-bodied Ale will remind you of fall holidays past and present while bringing a smile to your face!
*OUT OF STOCK*
Delusional Happiness (Belgian Tripel) (8.1% ABV)
You'll first notice the glowing Pink hue which comes from the Hibiscus.
As you raise your glass you'll then detect notes of Banana and Clove coming from the Belgian Yeast.
Your first sip of this "booze bomb" will taste strong, sugary and leave you with a crisp mouthfeel and sweet finish.
We used Belgian Rock Sugar (basically Rock Candy) to sweeten this bad boy up!
You'll know you're drinking a Tripel as you start to feel warm after a few sips...Proost!
Nuclear Pig (Strong Ale) (9.0% ABV)
This 3 eyed swine freak will leave you feeling like you just popped out of a microwave! Warming and boozy, you'll taste the smoke of the sweet in this medium-bodied Strong Ale. Served with a side of Pig Candy!
*OUT OF STOCK*
Accountability Buddy (Lager) (4.2% ABV)
Accountability Buddy (Lager) (4.2 % ABV) is similar to all the Beers you used to steal out of your Dad's Refrigerator! Enjoy it responsibly with a buddy today at Khaos Brewcade! Cheers to friendship!
Tastes similar to a commercial Light Lager
*OUT OF STOCK*
Filthy Wheat (Wheat Ale) (4.0% ABV)
We about to get real nasty on this Cherry Witbier - Khaos Style!! Coriander and Orange Peel gives this Beer its bitter flavor while Belgian Yeast produces a subtle note of Banana and Clove. Cherry Puree was added during fermentation for a hidden hint of Filthy tartness.
*OUT OF STOCK*
Orangegasmic Creamsicle (Double IPA) (8.5% ABV)
Not sure if we can get any more risque with the description of this delicious beer than we did with the original Orangegasmic, but let's just say the natural Orange and Vanilla flavors added to this beer will have you "Creaming for more!" Ok, maybe we just did get more risque...
*SOLD OUT*
Find Our Beer Around Town
Khaos Brewing Kegs available To-Go!
$90 Per Keg 1/4 Barrel
$175 Per Keg 1/2 Barrel
$30 Refundable Keg Deposit
A limited number of 1/2 Barrel & 1/4 Barrel Kegs are available to the general public.
Call us at 815-782-6640 to reserve yours or stop by to pick it up at the Brewery.
We do not supply Party Tappers or any Tapping Device to extract Beer from the Keg
We recommend using a Tap System with CO2 and Dispensing Faucet
Works with an American D Sanke Coupler