Main content starts here, tab to start navigating
Book an Event
Our Brewcade can hold up to 200 Guests during off-hours and up to 30 people during open hours.
Our Brewcade & Kitchen features
Over 40 Arcade Games
Pinball Machines and Sports Action Games
Scratch Kitchen from the minds of Craft'd & Chop'd
Khaos Brewing Beer on Tap
Full Bar featuring Signature Craft Cocktails (Adult & N-A)
Contact our Event Planner via the form by clicking the button below and then let us handle the rest!
Our new Dessert Packages include made-from-scratch Cookie Bar Platters ($3/Person) and made-in-house Cheesecake Platters ($4/Person) as well as Ice Cream Sandwich Platters ($2/Person).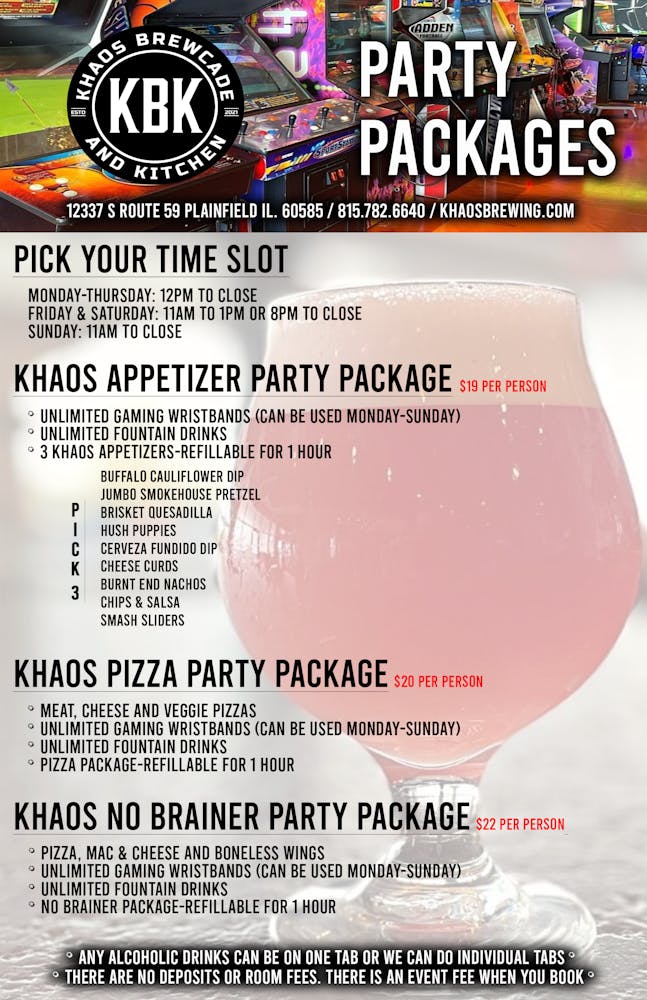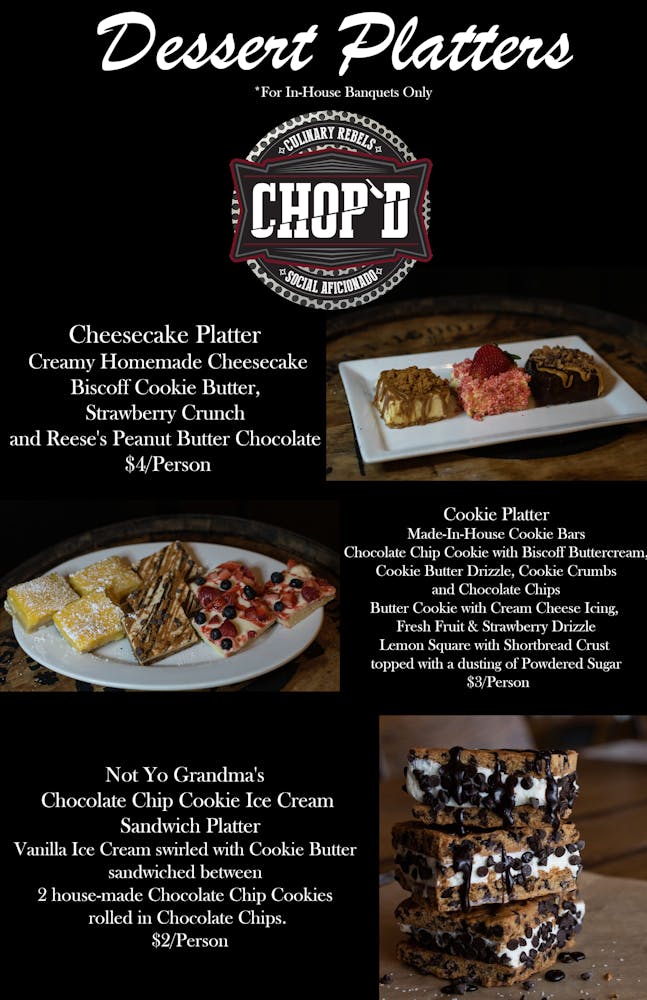 Khaos Party Packages
Khaos Brewcade

Khaos Brewcade & Kitchen is located off of Route 59 in Plainfield, Illinois.

Host your party or event with us in our family friendly Brewcade!

Birthday Parties, Graduation Parties, Team Celebrations and Gatherings, Bachelor or Bachelorette Parties, Corporate Events, Business Luncheons, Corporate Retreats and Club Meetings.

Our entire Brewcade is available for rent during off-hours for groups of 20 or more Monday - Thursday!

Please contact us in advance to reserve your date and time.

Reserve our entire Brewcade during off-hours for your Party or Corporate Event!

Khaos Brewcade & Kitchen is also open for smaller parties and gatherings during operating hours with our large tables.

Capacity: 200

Our new Dessert Packages include made-from-scratch Cookie Bar Platters ($3/Person) and made-in-house Cheesecake Platters ($4/Person) as well as Ice Cream Sandwich Platters ($2/Person).







Hours

Monday - Tuesday ➡ 4 PM - 11 PM

Wednesday - Thursday ➡ 12 PM - 11 PM

Friday - Saturday ➡ 12 PM - 1 AM

Adults 21+ Only on Fridays & Saturdays after 9:30 PM

Sunday ➡ Noon - 10 PM

____________________________

Looking for more Venue options?

Chop'd is located next to Khaos Brewcade & Kitchen and has a Farm Room, Loft Space and Brewery Overlook Room available for rent.

Learn More ➡ thechopdlife.com/private-events

Capacity: 200